Over on his blog author "netxing" has uploaded a post describing how he was able to use a Portapack to spoof mag-stripe info stored on credit/debit cards. The idea based around an old trick called magnetic stripe audio spoofing. This is essentially using an electromagnet and a music player like an iPod or smartphone to trick a magnetic card reader into thinking that you're swiping a card through it.
Netxing's idea was to use an FM transmitter connected to a computer to transmit known magnetic stripe card data via FM to the Portapack. The Portapack then receives and outputs this as FM audio to an electromagnet connected to the audio out jack, allowing it to activate the magnetic card reader.
Using this method it could be possible to make a payment by transmitting card data remotely over an FM signal. We're not sure on why you'd want to do this, but it is an interesting experiment regardless.
Lime Microsystems, creators of the LimeSDR, LimeSDR Mini and LimeNET SDR devices have recently begun crowdfunding for a new product they are calling LimeNET Micro. LimeNET Micro is described as a software defined radio platform with an integrated processor for creating self contained wireless networks. In other words it is a LimeSDR LMS7002M SDR transceiver chip with an included Raspberry Pi Compute Module 3, FPGA, GNSS module, EEPROM and Flash memory attached to it.
The LimeNET Micro is capable of full duplex TX and RX (1 port each) with the typical LimeSDR frequency range of 10 MHz - 3.5 GHz. However a major difference is that the LimeNET Micro is only capable of a 0.27 MHz bandwidth, whereas other LimeSDR products are capable of bandwidths up to 30.72 MHz. One interesting additional feature is that the LimeSDR Micro comes with a GNSS module that can be used to receive GPS/GLONASS etc for high accuracy timing if required.
Some use cases that they envision LimeNET micro being useful for include:
Inexpensive enterprise and personal networks
Rural, autonomous, and resilient networks
Universal IoT communications hubs
Rapid deployment infrastructure for emergency response
Remote radio solutions for amateur radio and radio astronomy
Integration into application-specific RF appliances
Radio spectrum survey
Passive wireless geolocation
PHY and security research
RF-aware robotics
The price is $269 USD and this includes a Raspberry Pi Compute Module 3. Higher end kits can be purchased which include Acrylic ($399) or Aluminum enclosures ($459).
For a while now researchers at MIT and several other universities have been investigating methods for using frequencies in the WiFi bands to see through walls using a form of low power radar. The basic concept is to track and process the reflections of these signals from peoples bodies.
Recently researchers at MIT have taken this idea a step further, combining the radar results with machine learning in a project they call RF-Pose. The result is the ability to recreate and track full human post information through walls. The abstract from their paper reads:
This paper demonstrates accurate human pose estimation through walls and occlusions. We leverage the fact that wireless signals in the WiFi frequencies traverse walls and reflect off the human body. We introduce a deep neural network approach that parses such radio signals to estimate 2D poses. Since humans cannot annotate radio signals, we use state-of-the-art vision model to provide cross-modal supervision.

Specifically, during training the system uses synchronized wireless and visual inputs, extracts pose information from the visual stream, and uses it to guide the training process. Once trained, the network uses only the wireless signal for pose estimation. We show that, when tested on visible scenes, the radio-based system is almost as accurate as the vision-based system used to train it. Yet, unlike vision-based pose estimation, the radio-based system can estimate 2D poses through walls despite never trained on such scenarios.
The hope is that this technology could one day be used as a replacement for camera based computer vision. It would be a non-intrusive method for applications like gaming, monitoring the elderly for falls, motion capture during film making without the need for suits and of course for gathering data on peoples movements.
It is not mentioned in the paper, but it is likely that they are using some sort of SDR like a USRP for receiving the signals. It's possible that a lower resolution system could be set up cheaply with a HackRF and some passive radar software.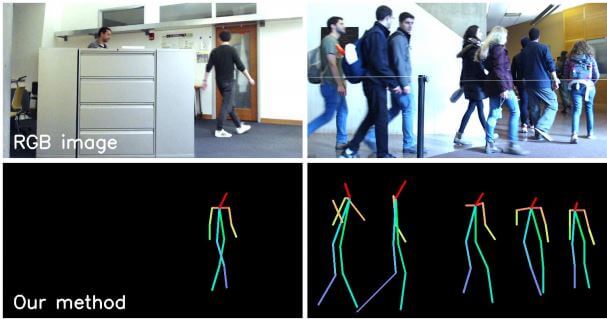 AI Senses People Through Walls
If you're willing to pay for express shipping, it'll be faster to order from our intl. store as there is still a few left in stock there. Amazon still needs to wait for the stock to ship there, and for Amazon to process the shipment.
Question about op25 -
Taken me couple of weeks to come this far. I believe I have the trunk.tsv & mycity.tsv file configured correctly. Anything I find online says I need to adjust the -q setting to get things working. I can never get the line over the peak of the frequency. Any help would be appreciated as I have tried many positive and negative numbers and not moved that line at all.
In the photos you you can see the syntax I have and what has been showing on my screen. I keep switching between the RTL-SDR & HackRF to see if there is anything different. Same result regardless which one I use.
THANK YOU



Statistics: Posted by studysession — Fri Oct 19, 2018 9:43 pm
---
Expense is a function of how many you make, and how difficult they are to make. [ Disclaimer, I work for a company that makes SDRs ]
The primary challenge is to make a printed circuit board and signal path that is very "quiet" with respect to ambient RF signals. That is why there will often be a "moat" of copper around sensitive circuits that a conductive cover is soldered to when the board is made. This prevents signals that can be in the nanovolts from being coupled to the signal paths in the circuit.. When you can keep the RF system completely inside a chip (like the RT820 does, you just need to make a quiet chip, and then the rest of the board isn't as big a problem.
Finally, there is a challenge in some of the parts, for examples filters from Atlanta Micro which are really nice and do what you want, are also really expensive! An 6 octave filter for 100Mhz to 6Ghz for example can cost $250 **per chip** and take 26 weeks to get after you order it.
So a combination of expensive parts, challenging design and manufacturing, that shows up has higher costs. But I still think the ADALM-PLUTO (which is $100 from Digikey in the US) is probably the best deal for a transceiver type SDR.
Statistics: Posted by Chuck — Fri Oct 19, 2018 9:36 pm
---
rtlsdrblog

wrote:

↑

Thu Oct 18, 2018 7:05 am

Adding an LNA in this situation isn't going to help much at all, and may make things worse.

An LNA helps if you have long coax runs (overcomes the coax loss), and at higher UHF frequencies where the noise figure becomes more important.

You really need to work on the antenna positioning first.
For the 120 - 160 Mhz band, the BCFM filter could help quite a bit. But it does depend on if you are receiving strong broadcast FM in your area. Tune to the BCFM band and see how strong the signals are. If they are strong (and they are for most locations since the TX power of broadcast FM is quite strong), then the BCFM filter will probably help.
Statistics: Posted by rtlsdrblog — Fri Oct 19, 2018 8:39 pm
---
nighthawk

wrote:

↑

Thu Oct 18, 2018 11:18 pm

I don't understand why anyone would build a devise so hard to use and does not at all except HDSDR a horrible piece of software .Sdr console v3 or v2 does not work sdrsharp does not recognize the dongle .So what is the point of this dongle .The other dongle i have funcube pro+ works 100%.... stick it in usb port and windows installs drives and works perfect .
The RTL-SDR isn't really hard to use, you just need to follow the setup procedure carefully at
www.rtl-sdr.com/QSG
.
You have to remember that RTL-SDRs didn't start off as SDRs, they are hacked DVB-T dongles, with software developed by volunteers. It's only because of these reasons that we can have such good low cost SDRs.
Statistics: Posted by rtlsdrblog — Fri Oct 19, 2018 8:36 pm
---
That thing you WANT!
When I got that myself it made a HUGE difference (improvement)
I wish there were more filters available actually.
BCFM is only 1 annoying band. There are also other digital broadcast-bands that are quite powerful as well as telephones and Tetra-stations.
In short; filtering bands you do NOT want to listen to (especially if they're strong in power at your location) is generally a good idea.
Statistics: Posted by JEL — Fri Oct 19, 2018 6:15 pm
---